Congratulations to our 2022 All Aboard Youth Scholarship recipients. Each will receive a $500 scholarship. Each student submitted an essay about what it has means to be an All Aboard Youth Member at Trax. Applications were evaluated based on categories that include, but are not limited to: Community Involvement, Educational Accolades, Overall Grade Point Average, and Credit Union knowledge. Thank you to all those who applied, and we encourage you to apply again next year. We wish you each good luck in your future endeavors and are proud to call you members.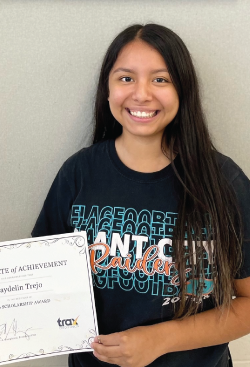 Naydelin Trejo
Naydelin is a Senior at Plant City High School and has a cumulative GPA of 7.9134. She plans to attend the University of Florida where she will study Computer Science. She is the President of the Spanish Honor Society, Vice President of Latin Quarters, a member of the Key Club and a member of the National Honor Society. She was designated an AP Scholar with Distinction in both her Sophomore and Junior year, was awarded the Raider of Excellence Award, is a National Hispanic Scholar and is currently ranked 2nd in her class.
"For teenagers like me, Trax has a youth checking and savings account option. The mobile banking app allows me to easily transfer money between my accounts and the Zelle service lets me send money to family and friends. Trax provides invaluable financial literacy resources with information on many topics. I look forward to continuing my financial journey with them as I prepare to graduate high school and start college."
- Naydelin Trejo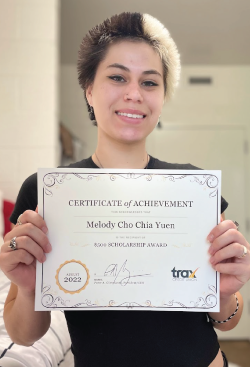 Melody Cho Chia Yuen
Melody graduated from Bloomingdale Senior High School with a cumulative 6.52 GPA. She currently attends the University of Central Florida where she is studying Digital Media - Video Game Design. Melody was a member of the Volleyball team, the National Honor Society, Spanish Honor Society and English Honor Society. She was awarded the AAU All American Academic Award, a Seal of Biliteracy and the Perfect GPA Award.
"As a young adult, it is important to me that Trax Credit Union serves as a safe place to keep my money, save my money, and borrow at reasonable rates. Trax Credit Union's brand promise: Like Railroad tracks run parallel to each other, Trax Credit Union is with you, side-by-side, on your financial journey and destination."
- Melody Cho Chia Yuen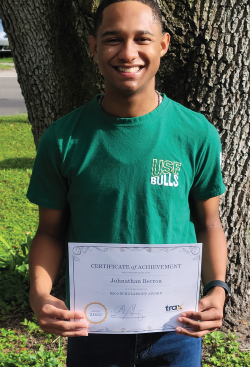 Johnathan Berroa
Johnathan graduated from Tampa Bay Technical High School with a 6.20 cumulative GPA and attends the University of South Florida where he is studying Biomedical Science. Johnathan was a member of the National Honor Society, Key Club, Marching Band, Concert Band and was awarded the Semper Fidelis Award for Muscial Excellence, among other achievements.
"Trax Credit Union provides a unique and beneficial experience because they encourage people to reach certain milestones, such as getting A's and graduating from high school. Not only does Trax encourage you, they reward you when you meet these milestones. It shows that they are with you every step of the way and that they want you to succeed, and they acknowledge when you do."
- Johnathan Berroa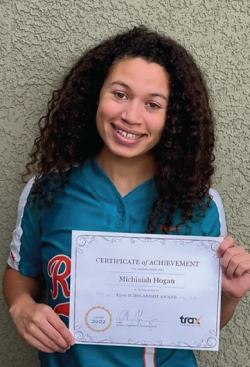 Michiaiah Hogan
Michiaiah is a Senior at Plant City High School and is a Varsity Triathlete. For all four years of high school, she has been a member of the Softball, Basketball and Flag Football teams. She is the President of the Raider Buddies Club which promotes inclusion for students with special needs. She hopes to study Sports Medicine at Hillsborough Community College when she graduates.
"While traditional banks are run by stockholders whose goal is to maximize profits, a credit union returns profits to its members in the form of more favorable interest rates. And that's what Trax does! "
- Michiaiah Hogan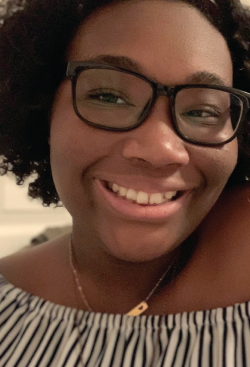 Destiny Durand
Destiny attends Armwood High School and has a cumulative GPA of 5.40. She plans to attend Flagler College where she will study Elementary Education. She has accumulated over 100 community service hours and was awarded the Black Student Achievement Award her senior year of high school.
"Credit Unions are part of the community. They truly work with their members and help teach financial literacy so they can make the best decisions possible. So if someone asked me where they should go, Trax CU is definately at the top of my list."
-Destiny Durand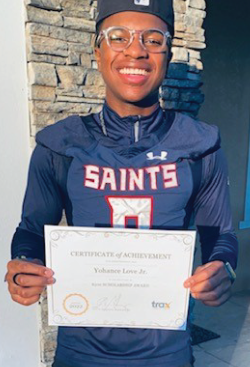 Yohance Love Jr
Yohance attends All Saints Academy and has a 4.0 cumulative GPA. He hopes to attend Jacksonville University as a Pre-Med student. Yohance is a member of Torch & Laurel, an inductee of the 2021 Congress of Future Medical Leader Alumni and a member of the Trax Credit Union Youth Advisory Board. He is also a member of the National Honor Society, his school's football team, soccer team and lacrosse team. He was named the 2nd Team All State Cornerback, SSAC Conference Cornerback, the Varsity Lacrosse Team Captain and holds many state titles.
"I joined Trax more than five years ago when they were known as Railroad & Industrial Federal Credit Union. My parents wanted me to start my banking relationship early. I am seventeen years old now and Trax has assisted me in cashing my first paycheck and I am a Trax Youth Advisory Board Alumni where I learned about topics such as credit, fraud and how to prevent financial difficulties."
- Yohance Love Jr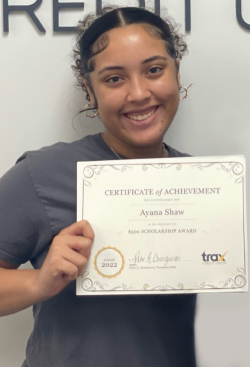 Ayana Shaw
Ayana attends Hillsborough Community College and is studying Allied Health. Ayana was nominated for the US Presidential Scholarship and has a cumulative GPA of 4.0 in college and continues to make the Dean's List each semester. She is actively involved in her community and volunteers at the Wimauma Senior Center.
"Trax Credit Union's mission is to enrich the lives of their members by providing quality financial services within the credit union philosophy of people helping people," and they stick by their word and do just that. I have been a member with Trax for over a year now, and I feel as though they are like a second family."
-Ayana Shaw