A debit card just makes the journey easier. Use it to make purchases quickly and securely. It can also earn you rewards!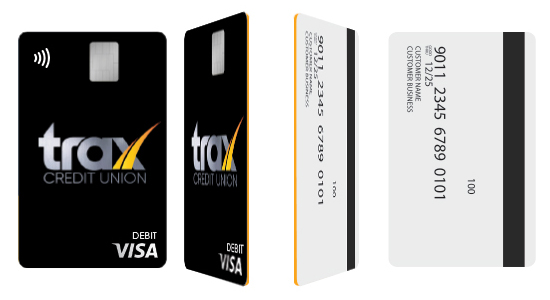 Fast, free, and easy way to pay
Contactless pay (tap to pay) available
Safer than carrying cash
More convenient and safer than checks
Eliminate cost of purchasing checks
24/7 access to funds via ATMs
Easily withdraw funds from ATMs
Surcharge-free ATMs available
Same-day card when you open your checking at a branch
Control your debit card with our mobile app.
Add peace of mind when you're traveling or during busy times of the year with our debit card control.
When you download our mobile app from the Apple Store® or Google Play™, you can activate (turn on) or deactivate (turn off) your debit card. Don't forget to activate your card to allow pre-authorized transactions to process. When you deactivate your card, all transactions STOP, even those you have approved.
Tap and go with your Trax contactless debit card.

Tap your card at any payment terminal with the contactless symbol during check out.

It's that easy. Your payment will be processed within seconds.

Safe, easy and secure cashless payments.